Copenhagen Athletics Festival (English)
Hvidovre Stadion has turned out to be propably the best stadium in Denmark for sprint and hurdles by a combination of fast running tracks and almost always a good wind. There has been an increasing interess in more meetings targeting sprint and hurdles. So we have decided to start up what we hope will be a new tradition, Copenhagen Athletics Festival, where we are aiming for optimum conditions for sprint and hurdles.
This means that we will be able to run in the opposite direction if the wind changes from tail to headwind. And we are offering two races for everybody at the 100 metre with approximately 1 hour between the preliminary races and the finals.
The good wind conditions have proven to be not only attractive for the sprinters, but also for the throwers, so therefore the program is supplemented with the traditional 4 throws for senior men and women. Young throwers can also participate with their own implements. According to the time schedule, it has been decided that in each throwing event there is only room for a maximum of 16 athletes, 8 of each gender, and the places will be distributed according to SB in 2022 across age groups. If there are fewer than, for example, 8 women, then the men on the waiting list will be given the free places. All throwers will of couse get 6 attempts.
Events:

U16 B/G (born 2006-2007): 80/100m Hurdles, 300m Hurdles, 100m, 200m, 300m.
U18 (2004-2005), U20 (2002-2003) og Men & Women: 100/110m Hurdles, 400m Hurdles, 100m, 200m, 400m.
Men/Women: Shot Put, Discus Throw, Hammer Throw, Javelin Throw.
Registration no later than Thursday 19th May by using speciel Excel Form. Starting fee DKK 100 / start. Late registration is possible until Wednesday 25th May at 11.59 against a double fee.
Seedning: All events will be seedet using SB 2022 until and including Thursday 26th May at 6 PM.
Participants, starting lists and results will continuesly be updated at iMars
LIVE-streaming will because of lack of manpower unfortunately not be live streamed.
---
NEWS!
24th May: iMars has been updated with list of participants.
25th May: Deadline for late entries has now been passed, and the final timescedule is now ready.
27th May: Some minor adjustments on the short hurdle in the timeschedule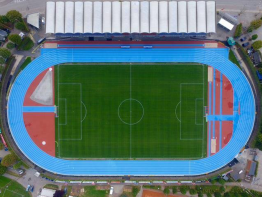 Kontaktpersoner