Copenhagen Open 2023 (English)
In 2023 the Copenhagen Open will be arranged for the 11th time, and we look forward to welcome you on 10-11 June.
The Copenhagen Open is a meeting for athletes at all levels from the beginner to the athlete competing at international championships. And that is background for why we have Denmark's widest selection of events, so there is plenty of opportunity to make a club trip to Copenhagen Open. We are looking forward to see a stadium full of life, happy people and lots of athletics!
Events:
180 different events for both youth an adult athletes, find more information in the invitation
Registration no later than monday 29th May by using special Excel registration sheet. Only one registration per club. Starting fee is 70 DKK per event for youth up to 15 years of age, and 90 DKK per event for 16 years of age and older. Late registration is possible against a double fee.
Accomodation: There will be several possibilities from low-budget accommodation at the school opposite the stadium to hostels, campsites and hotels.
It is possible to buy various food and beverages in Café CphOpen at the 100m start. You can order breakfast, lunch and dinner in connection with the registration.
SB will determine the seeding, and we will accept last SB correction documentations received by Thursday 8th June 6.00 PM.
There will be special Copenhagen Open medals for all athletes up to the age of 9, the 6 best in all events up to the age of 11, and for the top 3 from 12 years and older.
The timeschedule from 2022 can be found for Saturday and Sunday here. Please notice it is just for guidence, the final timeschedule will depend on the total number of athletes in each event. There will be prime time for the youngest athletes early in the day and similarly for the older athletes in the afternoon. We have strived for app. 60 minutes between preliminar runs at the 100m and the finals, unlucky coincidences between related events, and at the same time also tried to take consederation for athletes who have several events. But completely avoiding this is really difficult with such a complex an diverce competition program.
More specific competition info will be announces in the week leading up to the meeting.
Participants list will be updated as we recieve registration. Starting lists and results vil be published LIVE durig the meeting. All info can be found at iMars.
More info can be obtained by contacting Michael Bruun Jepsen by email eller mobil +45 2729 2519.
---
NEWS !
March 24: World Athletics has approved Copenhagen Open as a level-D competition. Top-6 senior athletes can achive 25-21-18-15-12-10 bonuspoints for the World Ranking List.
March 8: World Athletics has approved Copenhagen Open as a qualification option for international youth and senior championships.
---
FURTHER INFORMATION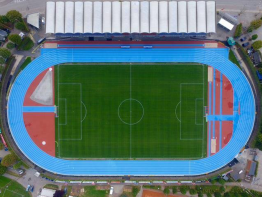 Kontaktpersoner